Hand Sanitizer
In light of the public health emergency posed by COVID-19, we at Carie Boyd's are working overtime to help ensure that medications and other related resources remain available to the public and our healthcare system. The FDA has noted that hand hygiene is an important part of the U.S. response to COVID-19, and therefore, for a limited time, we will be producing hand sanitizer to help reduce the spread of this virus.
Please place your order below. U.S. orders only.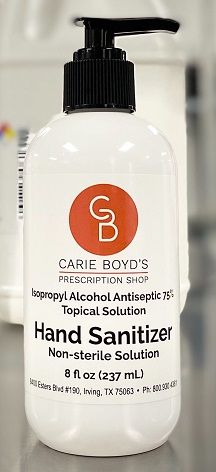 Carie Boyd's Hand Sanitizer
This product is an alcohol-based hand sanitizer that has been compounded pursuant to a formulation provided by the U.S. Food and Drug Administration to licensed pharmacies and outsourcing facilities.
$9.99 / 8 oz. bottle.

Supply is limited. Orders will be filled in the order they are received.
If you have any questions, or if you are a hospital or other healthcare organization that would like to place a bulk order, please contact us at sanitizer@carieboyd.com or call 1-800-930-4361.